It used to be that only car enthusiasts go the extra mile of keeping automobiles consistently untainted and polished. Only they applied clear bra (paint protection film) on their cars. But, points of view have changed since. Clear bra has become a common necessity for most car owners. Find out why by going through the list of clear bra benefits below.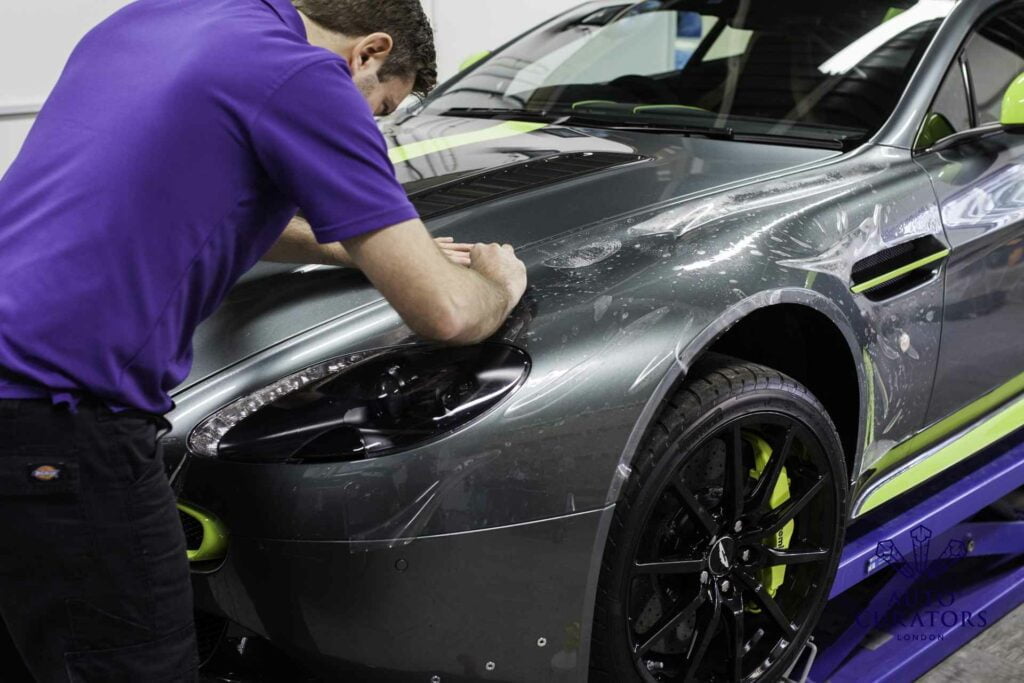 But First, What Is Clear Bra?
Clear bra or paint protection film (PPF) is a plastic sheet that serves as a transparent car film. It is customized for fitting and applied to the car parts exposed to dirt and prone to scratches and damage. It's like a screen protector for smartphones.
Clear bra for cars typically takes the form of glossy or matte elastomeric polyurethane. A good quality clear film has the following features:
Has an invisible finish
Self-healing
Stain-resistant
Does not turn yellow after a while
Retains gloss despite changes in the surroundings and temperature
Comes with a warranty
Installed by a skilled technician
7 Benefits of Clear Bra for Cars
The list boils down to one thing: protection.
1. Provides a Transparent Protection
A clear bra is, well, clear. When applied properly, it can be an invisible layer of protection on top of car paint that prevents chipping and scratching.
2. Prevents Constant Car Maintenance and Repainting
Tiny pebbles kick up along the highway. Birds fly while doing business #2. Cement and sand can fly off the back the trucks that carry them. All these can stick or hit your car.
Because it serves as a protective film, a clear bra on your car keeps you from continually spending on repainting jobs. It keeps debris off of your car paint.
3. Protects Your Car from Parking Lot Incidents
Not all parking lots are spacious enough. Not all passengers or drivers in the parking area are careful with how they open their car doors. And, most importantly, you can't physically guard your car in the parking lot while you're at the mall, grocery, or restaurant. A clear bra car lessens your worry by serving its purpose.
4. Makes Car Washing Easy
A clear bra lessens your burden in selecting the type of car soap or carwash. It also doesn't need a specialty washing cleaning equipment. You can simply use a slightly damp cloth to get rid of bird droppings or dirt.
5. Protects Your Car's Value
Keeping your car unscratched and flawlessly functioning does more than just maintain its looks. It's also protecting its price, so when it's time to sell it, you need not worry about the exterior.
6. Carries Long-Term Protection
Clear bra films from reliable companies usually come with a warranty. Some go for as long as ten years. This means that you and your car are protected against damages and repainting jobs for a long time.
7. Helps Lower Insurance Premium
Because a clear bra adds a layer of protection from wear and tear, it can help you get a basic car insurance coverage instead of a more comprehensive one
4 Important Things to Consider When Getting Clear Bra for Car
As added tips, here is a list of factors you need to consider when buying a clear bra for your car:
Before asking for quotes or selecting services, find out which parts of your vehicle need a clear cover. This will help you choose the most suitable provider and help you calculate your budget.
Opt for a reputable seller and installer in your area. While affordability is excellent, clear bra installation is a meticulous job. It should be done by a professional. Check online reviews or ask for referrals from family and friends.
Consider also which of your options provide a warranty or tailored packages. Choose the provider that will help you maximize the budget that you have.
Choose only reputable and good quality brands. XPEL and Suntek are well-recognized in the field.
Clear Bra Installation Near Me
As you saw in the list above, clear bra isn't just for luxury cars. Wrapping your car with this transparent film is both a protection and an investment. It saves you from unwanted expenses because of paint damages and also protects the value of your mobile property. So, when you are looking for a service provider, go for one that uses only quality products and has a good reputation.
Classic Details Auto Spa has been operating since 2014. We provide car coating and paint protection film services for clientele in Orlando, California. Our specializations are the applications of Ceramic Coatings and Paint Correction. We are also authorized installers of paint protection films (PPF) or clear bra in Sanford, Florida. Reach out to us today at 1-407-801-1715 or via our Contact Us page to get a quote.