Both Paint Protection Films and Ceramic Coatings are designed to protect and preserve the outside paint of your vehicle, therefore retaining its visual appeal. In addition to their primary function, these "invisible" goods have comparable characteristics, such as UV protection, hydrophobicity, and protection against acidic pollutants. But should a ceramic coating be applied to the paint protective film? Discover with Classic Details Auto Spa!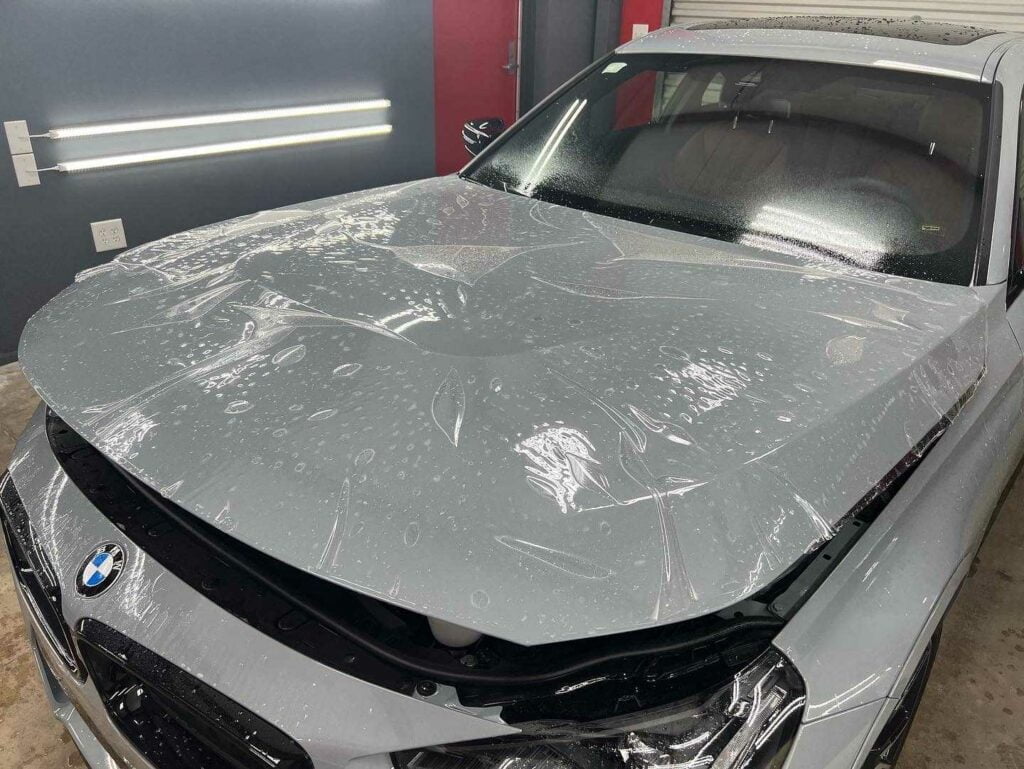 Can We Apply Ceramic Coating on Paint Protection Film?
The answer is yes. Ceramic Coating is genuinely needed for your vehicle because of its features! Here are why we can apply Ceramic Coating on Paint Protection Film!
Ceramic coatings are hydrophobic. Therefore they are easier to keep clean since water rolls off.
Facilitates the removal of insect splatter, bird droppings, and other sticky pollutants.
Adds UV protection to reduce the yellowing of certain Paint Protection Film coatings and preserve your paint.
It slows the formation of lasting marks on your Paint Protection Film from caustic things like bird droppings.
It gives your Paint Protection Film a distinct sheen that cannot be obtained in any other manner.
Protect your Paint Protection Film! Where as Paint Protection Film protects your paint better than anything else, a nanoceramic coating will protect your Paint Protection Film, allowing it to remain in pristine condition for a far more extended period.
What Are The Differences Between Paint Protection Film and Ceramic Coating?
Impact Resistance
Paint Protection Films are thicker than Ceramic Coatings, giving them excellent resistance to flying debris such as pebbles, leaves, and insects. Some Paint Protection Films have a chemical makeup that enables them to self-heal and return to their former shape after an abrasion, scratch, or indentation.
Hydrophobic Features
In terms of hydrophobicity, Ceramic Coatings rule supreme. Ceramic Coatings resist water, making it simpler to clean your vehicle quickly since it will not get as dirty.
UV Protection
Paint Protection Films can yellow, get discolored, or faded when exposed to intense sunshine for extended periods of time. A Ceramic Coating, on the other hand, protects your car's paint from fading due to oxidation, much like sunscreen. Therefore, it provides greater UV protection, guaranteeing that your automobile retains its color.
Durability
Comparing Ceramic Coating with Paint Protection Film, durability is a significant factor. A superior Paint Protection Film composed of aliphatic TPU will provide 7 to 10 years of protection! It must be appropriately implemented and maintained consistently.
Ceramic Coating will protect your car for two to five years, depending on your driving habits and maintenance. Ceramic Coating can last five years if properly applied and maintained with high-quality vehicle shampoo.
High Gloss
These paint protection treatments safeguard your vehicle's original paint and preserve its brilliance. However, Ceramic Coatings offer additional slickness and gloss to your automobile, resulting in a velvety sheen. In addition to gloss, Paint Protection Films include a Gloss Enhancing Top Coat.
Cost
Both Ceramic Coatings and Paint Protection Films are priced according to their quality and the size of your vehicle. Ceramic Coatings vary in price according to the Coating's quality and endurance.
Paint Protection Films are much more expensive than other products. The cost of Paint Protection Films varies based on the film's quality and the coverage area of your vehicle.
Ceramic Coatings and Paint Protection Film are the best protective coatings for your vehicle, so it depends on your needs to choose the best Coating for your car! Classic Details Auto Spa in Sanford, FL, offers high quality products from a professional team to leave your car in pristine condition! Call Classic Details Auto Spa at 407-801-1715 to make an appointment with us!